Dark Site Observatory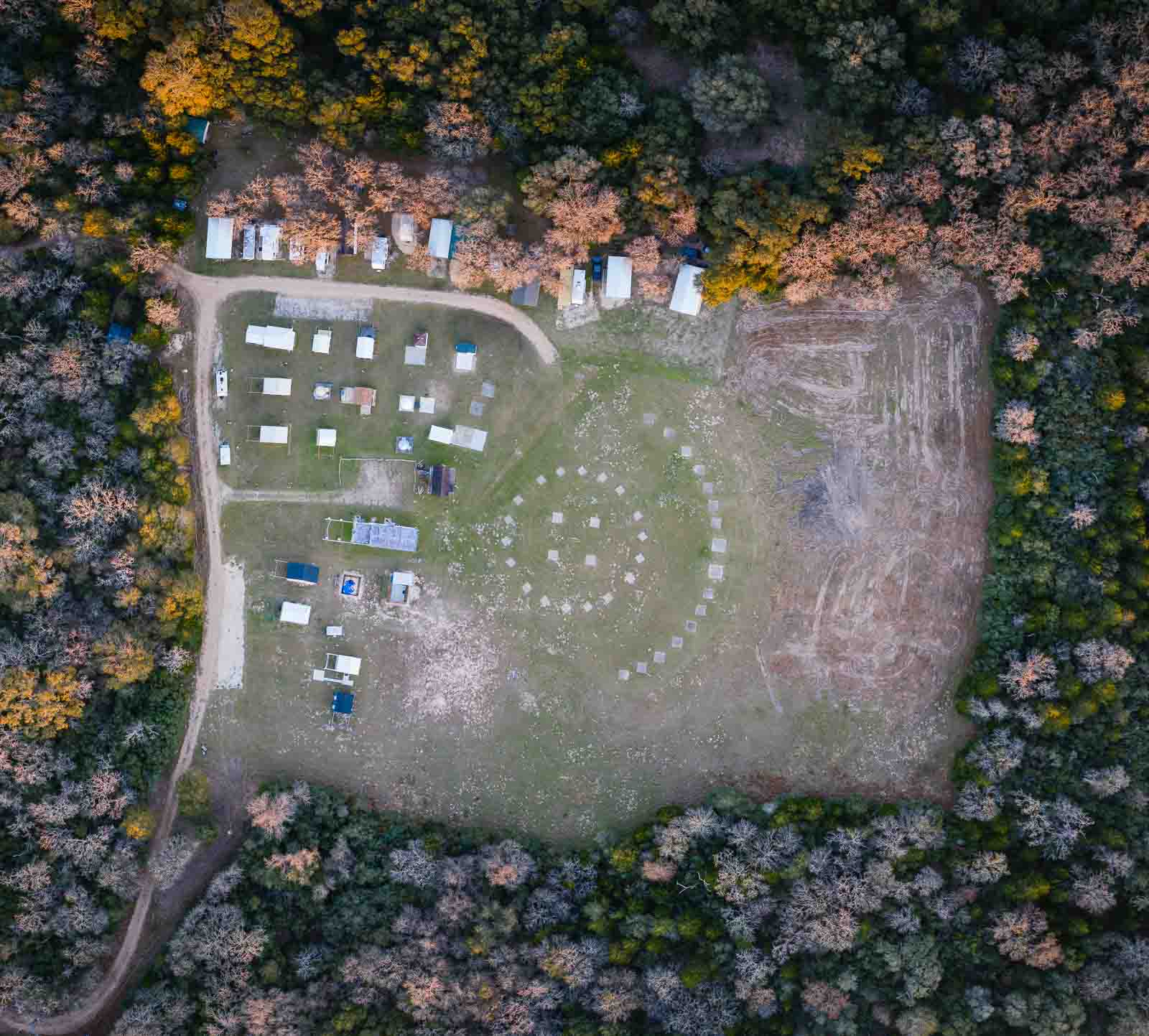 Society members enjoy dark skies at our observatory located eighty miles west of downtown Houston.  In this aerial view, you can see how our dark site earned its nickname Padhenge*. The observing field offers 38 concrete pads arranged in a circular pattern to best make use of the horizon. Electricity for powering telescope tracking devices is available within 50 feet of each pad. WiFi is available for remote telescope control or for other computer applications that require the Internet. Several star parties are held at the site each year, in addition to the Annual Picnic. Rene Gedaly, Field Trip and Observing Committee Chair, organizes these events.
Camping and Facilities
The site features a Male bunkhouse that's available for overnight stays. The bunkhouse is an air conditioned and heated building that sleeps four. Another bunkhouse has 2 rooms, designated for women and families is available. It, too, is air conditioned and heated. It has 2 beds and 2 cots in each room.  A permanent restroom building with hot water and showers is a short walk away from the observation field. Spaces are available for both tent camping and RVs.
Here you can see the attendance at a recent Star Party at the dark site.  Come out and join in the fun.
*  For a recounting of the Founder's Day event held at the Observatory in 2014, see the History section of this website.
Observatory Building with Sliding Roof
The observatory building, with a sliding roof, is home to three telescopes. The south wall folds down as well, to gain full access to the southern horizon.  A few members have viewed one star of the Southern Cross from this site. The 16 x 33 main room is cinder block construction with a thick steel roof weighing an estimated 3 tons. A chart room, with its desk, reference charts, and two comfortable cots keeps its roof on for use on those cold nights.
Telescopes
Three telescopes permanently mounted inside the observatory building are available to members upon completion of a training session.  Rightmost is the 12.5" f/5 built in the late '70s. It is used primarily for visual observing and has tracking but no GoTo. Several of the astronomical league observing programs prohibit the use of digital setting circles or GoTo so this is the scope to use. It was originally designed to be transportable and then later modified to be permanently mounted in the observatory. It is a low profile scope in that the vertically challenged need only a step stool to get to the eyepiece when the scope is at the zenith.
The telescope on the left is a recently acquired Paramount MX mount upon which an Astro-Tech Ritchey–Chrétien 12" OTA has been mounted.  This telescope is a GoTo "robotic mount" which must be controlled either by computer control or the electronic hand paddle. It will now be used for astrophotography only once an orientation session has be taken.  
The telescope in the center is a Celestron-C14 mounted on an Astro-Physics AP-900 mount that is used extensively for visual observing. The telescope is being run by The SkyX Pro for GoTo capability or the hand paddle for star hopping.
Dark Site and Observatory Access
The HAS Dark Site is available to all members in good standing who have:
1.        Paid their current year's dues.
2.        Completed the online site orientation training.
The HAS Observatory is available to members who have completed an additional training course on usage of the building.  To be eligible to attend an Observatory Training Course, members must be at least 16 years of age, be up-to-date with the Dark Site orientation and be a member in good standing for a minimum of six months.  Those interested in attending this training who are under the age of 18 must be accompanied by a parent or guardian who is also a member.  Underage members whose parents are not members may attend the training, but will not be eligible to use the observatory unless supervised by a trained adult user.
Prior to observatory training, users are required to have:
Knowledge of basic telescope functionality and procedures.
Working understanding of equatorial-mounted astronomical telescopes.
Know how to read star charts and locate/identify constellations in the night sky.
It is also strongly recommended, though not required, that users be familiar with using TheSkyX software.
Note: Training classes are suspended for 2022 until volunteers can be trained. The training classes are typically held several times each year, once each season. These are scheduled to accommodate trainer availability and are conducted by Rene Gedaly. The class typically begins in the afternoon and runs well into the evening so that trainees can demonstrate their understanding under nighttime conditions.
Training to use the 12" RCOS telescope for imaging requires a separate training orientation which is open to those who have successfully completed the Observatory training and is proficient in operating the other telescopes without assistance.
All training sessions are at the discretion of the Observatory Director. Contact Observatory Director Chris Ober for more information. Training sessions are on a first come, first served basis and are announced in the HAS email list, website and Facebook group. We are not accepting reservations or maintining lists for training.
To book observatory telescopes, bunkhouse beds, and/or weekend trailer slot, contact Steve Goldberg at [email protected].
Emergency Observatory phone numbers: Chris Ober 2_1_0*4_1_0*9_1_6_1, Steve Goldberg 7_1_3*3_8_5*4_0_7_2 or Mike Edstrom 8_3_2*6_8_9*4_5_8_4.
Members: Need to take ONLINE SITE ORIENTATION? 
Log in to the website If you have a problem logging in and it's within the yearly grace period for renewal, email

[email protected]

. Otherwise, begin with the next step.
Pay this year's dues if you haven't yet. You can use the PayPal button on each web page or mail a check to Houston Astronomical Society, PO Box 131282, Spring, TX 77393
Return to this page and press the big, blue START YOUR TRAINING button. The button and link appear only if you're logged into the website and need to take the yearly online orientation class.
Email

[email protected]

that you passed orientation so he can email you back the next steps to take to get the map to the dark site, gate code into the site, and the Wi-Fi password. See you at the HAS Dark Site!