By: Steve Goldberg
Asterism: a grouping of stars that form a recognizable pattern.
Constellation: Sagitta
Right Ascension:  19h 55m 00.0s
Declination: +17° 18' 00"
Magnitude: 9
Size:  24' (minutes)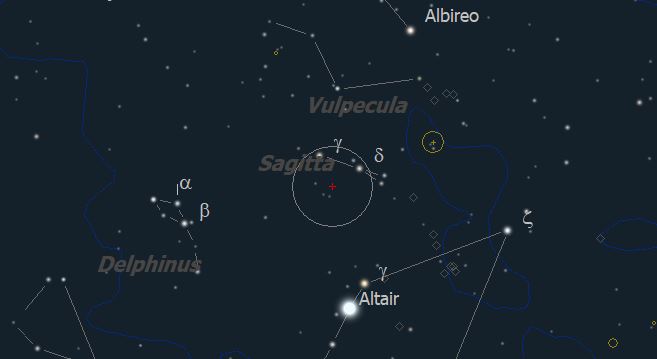 It is located in the constellation of Sagitta, which is Latin for arrow. To locate Sagitta, look for Albireo β Cygnus and Altair α        Aquila. Between those 2 stars is the constellation Sagitta. There are 4 bright stars that form an arrow.
  Here is a finder chart for the asterism. The bright star at the top is Albireo. You can see the 4 or 5 stars that make up Sagitta.
  In a 60x power eyepiece you can see the "point" of the arrow pointing up, with the straight line of 3 stars forming the shaft of       the arrow.
  This asterism is on the Astronomical League's Asterism list. See the AL program

here

.