August 06, 2021, 7:00PM: August Membership Meeting - Via Zoom
Alien Oceans on Earth and Beyond
Dr. Kevin Peter Hand
Planetary Scientist/Astrobiologist – Jet Propulsion Laboratory, Caltech
Where is the best place to find living life beyond Earth? It may be that the small, ice-covered moons of Jupiter and Saturn harbor some of the most habitable real estate in our Solar System. Life loves liquid water and these moons have lots of it. These alien oceans of the outer solar system have likely persisted for much of the history of the solar system and as a result they are highly compelling targets in our search for life beyond Earth.
Dr. Hand will explain the science behind why we think we know these oceans exist and what we know about the conditions on these worlds. He will focus on Jupiter's moon Europa, which is a top priority for future missions. Dr. Hand will also detail how the exploration of Earth's ocean is helping to guide our understanding of the potential habitability of worlds like Europa.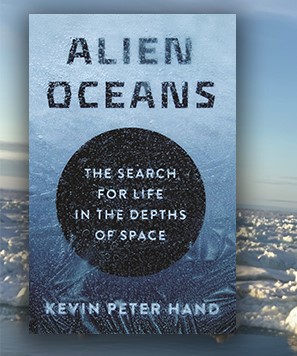 Our Speaker – Dr. Kevin P. Hand is a planetary scientist and astrobiologist at NASA's Jet Propulsion Laboratory, where he directs the Ocean Worlds Lab. His research focuses on the search for life in the solar system, with an emphasis on Jupiter's moon Europa. He is helping lead NASA's Europa Lander mission concept, and from 2011-2016 he served as Deputy Chief Scientist for Solar System Exploration at JPL. His fieldwork has brought him from the Arctic to Antarctica, and to the depths of Earth's ocean. His book 'Alien Oceans', was recently published by Princeton University Press.
---------------------------------------------------------------------------------
Since we're still practicing safe social distancing, we will bring our August Speaker to you virtually through the Zoom online meeting platform! You must register for this presentation in order to attend. You may do so by using the link below:
https://us02web.zoom.us/meeting/register/tZAtdO-vqjMsEteZKdGXUTNDb0JPoyIWVfuj
Please watch your email, as you should also receive an email inviting you attend. The email will include any up to date changes (if any) on meeting times etc. You may also register using the link in the email, however it is only necessary to register once.  
We'll have the online chat feature available to us during the talk, and once the presentation is over, we can open up the audio lines for more questions.  I'm excited that this we're able to get together in this fashion, and I hope you can join us then.  We hope to see you online with us on Friday evening August 6th !
Joe Khalaf
President
Houston Astronomical Society