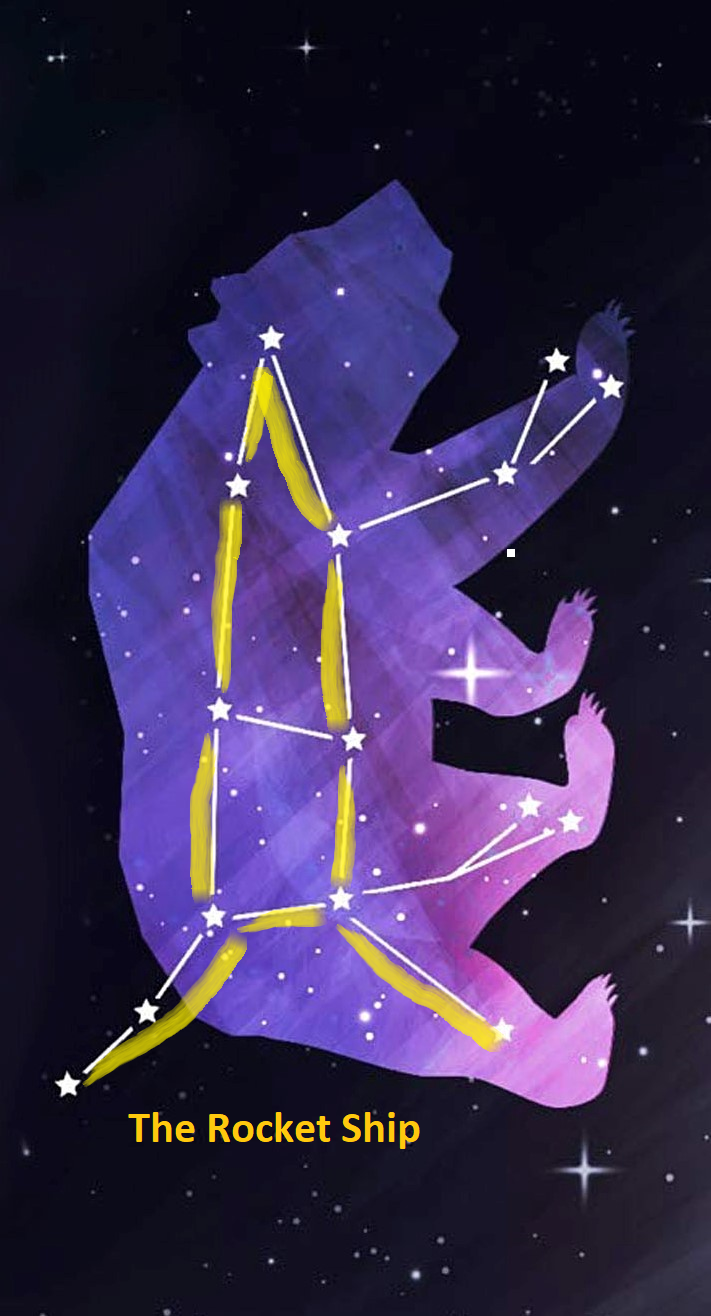 by Rene Gedaly
Friday night could not have been better weather for a public observing event. Folks seemed to know it, too, as they travelled to Schulenburg from as far away as the east side of Houston. Inside a warm classroom, I gave a brief talk about what we were going to see, and why, to a couple of dozen stargazers ranging in age from 3 to 63. For this crowd, Lepus became the Bunny Rabbit and Orion the Hunter was armed with shield and club. We did have several teenagers, so Messier 35 in Gemini became Castor's toe ring. One 12-year-old boy didn't see the Big Dipper asterism rising in the north but the Rocket Ship! You can see it, too, if you extend the end stars of the dipper bowl to the snout of the Big Bear. I told him I'd be using that asterism of his from now on.
We continued with questions as we walked across the Blinn College parking lot to line up with South Street, a straight as an arrow boulevard running east to west and conveniently lined with large oak trees. After pointing out Venus blinding us from above, we started navigating down to Mercury which had just crested a tree and was making its way front and center. Not many in humanity have seen Mercury so one-by-one the adults and teens thrilled to spot it. It took a little while for the under 12 crowd, but parents would not give up until their children had seen it too. My funny wizard hat saved the day for one mom as she was able to position me so that Mercury was at the hat's tip and lifted her son to her eye level to spot it. "Oh, that orange dot?" And after a chuckle, we moved on to the observing field.
Winter is a great time to talk stellar evolution while pointing out naked eye objects like the Pleiades—stars in their childhood; the Hyades—teenaged stars who prefer some distance but still hang out together; and, of course, the most spectacular stellar nursery the night sky affords us—the Great Orion Nebula. Winter is not known for globular clusters, but Lepus came to the rescue with Messier 79 to round out the other end of the stellar life cycle. Equipped with printed Skymaps, clipboards, soft pencils and red flashlights, we began the constellation tour... click read more button Both of my tested green light pointers gave out, but I needn't have worried. Moms and dads used their flashlights to identify objects from map to sky, calling me over to check, and I got a kick working the line of star gazers who finally got to put a name to stars they'd heard about or had seen in their own childhoods.
On deck we had two Dobsonian reflectors with part-time operators (myself and a teenaged sister and brother) and one Celestron NexStar 8se. GoTo scopes take a while to get aligned, but once they do, they're a great tool for outreach. Hats off to Phil Bracken who tag teamed it with me for the second half of the night with his NexStar. I suggested objects to see, he got us to them, and then I ran folks up and down the stairs of the observatory to show them the '70s era Celestron 14" SCT on an equatorial fork mount. I consider this a museum piece as the 9x50 finder needs serious nighttime alignment to the scope's view, plus the dome needs three adults to open the window and turn the dome manually to follow the sky. Oh yes, and a crowbar to lift a temperamental track wheel back onto the rail when it hops off. But the visitors were charmed (so was I) to be in the dimly red-lit dome peering through a narrow slit to look out at the dark sky they'd just seen outside. We followed M 42 in the finder but never got anything of note in the eyepiece. Maybe I can convince Blinn to give me a night to get things aligned before the next public event.
I can't end this report without mentioning the police officer who joined us. And then another, and another, evidently taking turns. They were three of six locals to check things out and told me how much darker it was where they lived; one even had a scope of his own that he's trying to learn how to use. Soon I may be sending out the call to an invitation-only star party and training session in Fayette County. We'll definitely need to figure out other ways to publicize this event as there's a large, underserved community in this area. But our members have seen it on our website event calendar and are attending or plan to. I was pleased to be able to caravan back to our own Dark Site in Colorado County to show two new HAS members our astronomers paradise there.  
Rene Gedaly
Membership, etc.
[email protected]